The Club's Dive Boat
2020 - First full season with club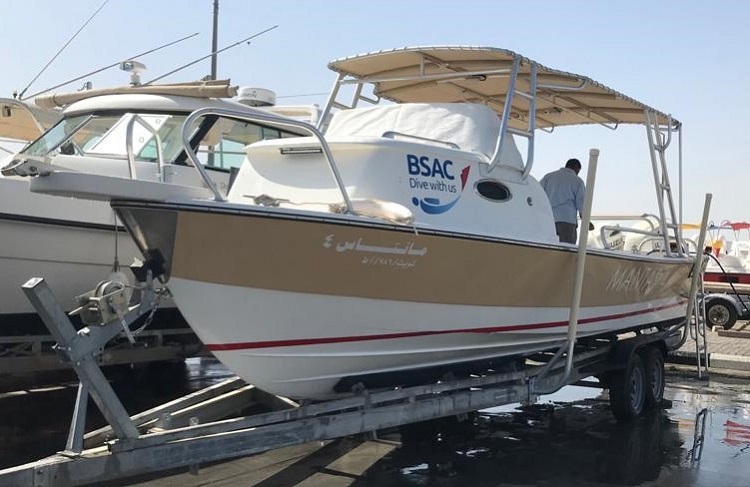 Mantas 4 - is a 7.1 metre mono-hulled Kuwaiti-built fibreglass hard boat with twin Suzuki 250hp outboard engines, it easily achieves 35 knots even with 10 divers and kit; so once again journey times have been reduced compared to Mantas 3. It can accommodate up to 12 divers and a coxswains with all their kit, tanks for 2 dives.But due licensing is limited to 10 people all up. The air bottles are stored on the gunwhales allowing the BCD to be mounted onto tanks, ready to diving as soon as at dive location. Each diver has his own storage compartment under the seat, so gearing up is easier and kit management very easy. Entry and exit from teh boat is very easy as the entry position is only about 450mm above the waterline. With Mantas 4 lightly loaded a maximum speed of 42 knots has been attained.
With a massive full tank, all the dive sites are well within reach. Entry and exit is via tow sallyports at the rear sides and there is ladder on the port and starboard side. Equipment includes a Raymarine Dragonfly 7 Pro GPS and echo sounder, with bluetooth link for programming waypoints and also getting bottom images onto a mobile phone. We always carry a first aid kit, a Marinox Oxygen Kit and 2 backup cylinders containing oxygen. So we have plenty of oxygen to cope with an incident happening at one of the more remote dive sites.
The boat is located in Khiran Marina which is about 50 minutes drive south of Kuwait City. This is an ideal location from which to set off for diving because all of Kuwait's dive sites are within 50 minutes by boat from here given good conditions. The furthest site is Mudayarah Reef at 26 nautical miles. Also there is an excellent slipway that can be used for launching or recovery at any state of the tide.
Please note: Only the club boat is berthed at Khiran Marina, you will not find a representative of the club at the marina. As a club, we do not have a shop or office. All diving is managed through the weekly 'socials' that take place on Tuesday nights.