Diving with The Kuwait Mantas
| | |
| --- | --- |
| Date | Notes |
| Fri 24 Nov | |
| Sat 25 Nov | |
| Fri 01 Dec | |
| Fri 01 Dec | |
| Sat 02 Dec | |
| Sat 09 Dec | |
| Fri 15 Dec | |
| Fri 22 Dec | |
| Sat 23 Dec | |
| Fri 29 Dec | |
| Sat 30 Dec | |
| Sat 06 Jan | |
For Guest diving, please see the "Guest Divers" menu item on the left.
Kuwait stands at the North Western end of the Persian Gulf. There are many good coral reefs in Kuwaiti waters which support a rich and varied underwater ecosystem. The offshore islands of Kubbar, Maradim, and Qaruh have extensive fringing coral reefs.
There are also a few submerged reefs, some close to shore such as Donkey Reef or Cuttlefish Reef and some more remote like Mudayarah Reef.
The reefs off Kuwait are some of the most northerly coral reefs in the world. Considering the local conditions of high turbidity and salinity and wide temperature fluctuations of 14C in winter and 32C in summer, there are some fabulous hard and soft corals to be seen.
Generally the diving is limited to depths of between 3m - 20m as the corals disappear past 15 m and there is little to see. The exception is a small wreck lying in 36 metres close to Qaruh. Fishing nets and its more demanding nature means we rarely visit it, but we are always looking for more interesting sites to add to our list.
Underwater visibility varies from less than one metre on occasions to more than 20 metres on others. Generally you can expect 6 to 10 metres. It can produce thrilling glimpses of turtles, rays, and barracuda and regularly provides a fascinating kaleidoscope of submarine life. Even whale sharks have been seen on occasions!
The waters of Kuwait can be dived without a wetsuit for much of the year as the water can reach 32 or 33 degrees centigrade in the summer - but a wetsuit (or even a drysuit) is definitely needed in the winter months when the water temperature can fall to 12 degrees or less. It's not just the corals that feel the cold!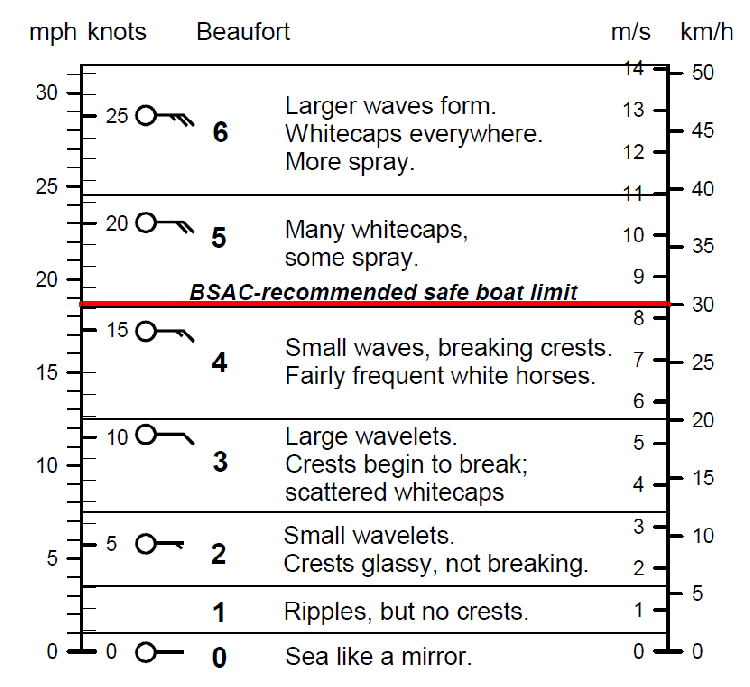 Safe diving
Dive Managers and Cox'ns should pay attention to the wind and the sea state. There is little shelter at Maradim, less at Qaruh, and none at Donkey Reef.
Generally, wind speeds of Force 3 or less are comfortable for the boat ride. Unless in a sheltered position, Force 3 however is not good for those on the boat. If there is forecast Force 5 at any stage during the diving period, or a reasonable risk thereof, the boat should not go out.
The current state of the wind can checked here (updated every few minutes, refresh page to see).
The forecast can be seen here (updated 2 or 3 times a day): here.