History Overview
Kuwait Mantas was originally formed in 1978 as branch 1045 of the British Sub-Aqua Club (the BSAC). During the Iraqi invasion of Kuwait in 1991 it lost its boat and a lot of its diving equipment.
It was started up again after the liberation, very much on a "shoestring" with a small boat. By the mid 1990s was flourishing again to the point where it needed a larger boat and purchased the boat pictured to the left from a club member. This could take 12 divers. Over time the engines were replaced with counter-rotating Yamaha 200s and hydraulic steering was added.
Disaster struck again in 2000 when we discovered the boat half sunk on its mooring in Khiran Creek. Someone had removed the bung! This resulted in both engines, one only a year old, having to be re-built with new bearings and crankshafts plus many other new bits. All very expensive. Then the older engine blew a head gasket and again suffered salt water damage.
However we had just received UN compensation for the boat and equipment lost during the invasion and so replaced that engine with a new one. But then, to add insult to injury, the hydraulic jacks were stolen from both engines while it was on its trailer in Fahaheel. The club simply did not have enough funds to replace these and so a number of members stepped in and loaned money to the club so the hydraulic jacks could be replaced. We then managed to secure a dry berth for the boat in Khiran Resort. Although this costs a fair amount it is very secure and we now do not have the worry of theft and vandalism which were always problems when the boat was moored in the creek.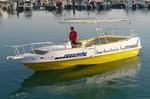 The club has recovered from all this and in 2005 decided to look for a new hull. Again members generously loaned money to the club and the boat pictured left was purchased. This is faster and much more comfortable than the previous boat and much easier to drive!